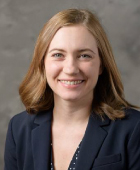 Liz Gutridge is a Certified Public Accountant licensed in the State of Ohio. Liz joined Niehaus Tax Services, LLC in 2021 and prepares individual income tax returns. Liz graduated from Mount St. Joseph University in 2002 and earned a Master's in Accounting from Purdue University in 2018.
Prior to joining the firm, Liz worked with a large regional CPA firm and has provided accounting support to many small businesses. She currently serves on the Audit Committee of Cincinnati Public Schools.
Liz is a Cincinnati native and lives in Mt. Lookout with her husband Bryan and their two daughters, Alice and Hazel.